Hospice and Palliative Care
The No-Bite
V

™ - Suction Catheter Introducer for the Oral Airway
A More Comfortable Oral Pharyngeal Suctioning
The No-Bite V™ has been proven to be a more comfortable suctioning method in Hospice & Palliative Care by avoiding the nasal pain, trauma & bleeding associated with nasopharyngeal or nasotracheal suctioning. Many end of life patients with Cancer or other diagnosis are fragile, have thin blood and are prone to nasal bleeding & trauma.
If difficulty is faced inserting a suction catheter nasally, many clinicians will attempt to insert orally. Inserting a suction catheter orally may prove very difficult because many patients bite down, resist the care and push out the suction catheter with their tongue.
The No-Bite V™ serves as a fast & easy suctioning alternative to introduce & guide a suction catheter orally instead of nasally.
Suctioning the Death Rattle in (EOL) End of Life Care
Hospice and Palliative Care provides humane and compassionate care for people in the last phases of an incurable disease. The focus is on patient comfort and symptom management. One symptom, the death rattle, which refers to the gurgling noise of excessive secretions, can be misinterpreted as the sound of gagging or choking to death1. The death rattle occurs in up to (92%) of people actively dying and can be an unnerving experience for the patient's family as well as the caregivers2.
One way to treat the death rattle is to dry up the secretions with medication. But that does not always work and some patients still require pharyngeal suctioning.
Please watch our No-Bite V™ In-Service Video to learn the techniques.
---
REFERENCES
1 Hipp, B; Letizia, M (2009). "Understanding and responding to the death rattle in dying patients". Medsurg nursing 18 (1): 17–21, 32; quiz 22. PMID 19331295
2 Wee, Bee; Hillier, Richard; Wee, Bee (2008). Wee, Bee. ed. "Interventions for noisy breathing in patients near to death". Cochrane Database of Systematic Reviews (1): CD005177. doi:10.1002/14651858.CD005177.pub2. PMID 18254072.
Testimonials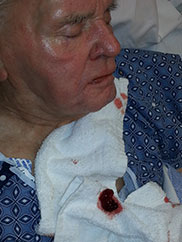 "I wanted to share these photos of my dad back in Nov 2016 before I even knew about the No-Bite. He was nasal suctioned in the hospital and they caused severe nasal trauma... Ouch! And no, he was not even on blood thinners, just baby aspirin."
"My dad stayed out of the hospital a record 10 Months Pneumonia-Free and Nasal Trauma-Free thanks to the No-Bite Suction!"
"Previously my dad was readmitted to the hospital at least once a month with aspiration pneumonias, but now he is doing much better."
Read Testimonials »