Our Mission
No Patient Left Behind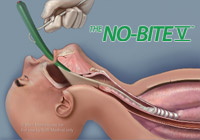 Whether a patient is biting down on oral care instruments or experiencing coiled suction catheters during nasotracheal suctioning, we realized that no patient can be left behind, not suctioned. We realized that not suctioning is not an option, and that's why we launched the No-Bite V™!
We are here to make painful procedures, more comfortable… tedious tasks, more simple… and blind procedures, more accurate…
Our goal is to reach out to you, the caregivers, and hear about the problems you face, so we figure out how to fix them. Feel free to contact us and get anything off your chest, we will take it from there.