Nasal Suctioning
Contraindications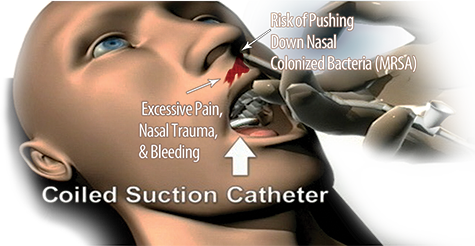 Patient Population
ALS Amyotrophic Lateral Sclerosis
CF Cystic Fibrosis
MND Motor Neuron Diseases
MS Multiple Sclerosis
MD Muscular Dystrophy
Elderly, Generalized Weakness
Cancer, End-of-Life Care
CVA - Stroke Patients
Spinal Cord Injury
Patients on Blood Thinners
Bleeding Disorders
Parkinson's Disease
IN-SERVICE VIDEO
Learn the Hand-on-Face Technique
* Fits any size suction catheter
* LED Light with Batteries Included
* Multiple Uses on Single Patient - water rinse after use, dry & store in package
Best Practice Solution

Suction Catheter Introducer
Pharyngeal Suctioning for more awake patients as well as unconcious.
* DO NOT go deep & gag your awake patient

* No-Bite V suctions much further into the Pharyngeal Area where Dangerous Aspiration Pneumonia BEGINS! A traditional Yankauer suction only reaches into the mouth!
* Technique is Easy, trained family members can suction their own loved ones at home!
| Product # | Quantity | Price | Savings |
| --- | --- | --- | --- |
| NBV-100-06 | 6 Units / Pack | $120.00 | 5% Savings |
| NBV-100-12 | 12 Units / Carton | $240.00 | 10% Savings |
| NBV-100 | 24 Units/Box | $480.00 | 15% Savings |